MIMOSA BAR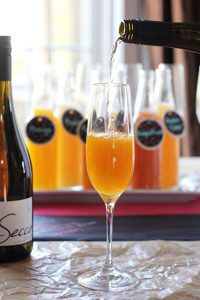 Regardless of whether you plan to arrange a new year party with a buffet or a full feast, Mimosa bar will be an original and convenient way to provide all guests with champagne.
"Mimosa" is quite a popular cocktail based on champagne, freshly squeezed orange juice and fresh fruit or berries.
Of course, do not forget to put and chilled glasses for a drink :).
If you and your guests love to experiment, you can not be limited to orange juice, and offer a few to choose from.
By the way, if there are a lot of guests, it will be great to sign the glasses (for this you can attach labels to each glass, on which each guest can write his name).
If you're worried we don't have enough space to set up a Mimosa bar, you're wrong. It can be placed even on a chest of drawers or a small serving table. This skoromny option will be appropriate at a house party with a small number of guests.
But if you are planning a party of the year, then, of course, Mimosa bar should be appropriate.
The decor of the bar with "Mimosa" can also be different — from the simplest to the luxurious. In any case, be sure to make a poster or write on a chalkboard/sheet of paper recipe cocktail "Mimosa". This instruction will help guests a lot:
Fill the glass halfway with orange juice.
Add the champagne and gently stir with a cocktail tube/stick
Garnish with berries or fruit to your taste
Enjoy!
By the way, Mimosa cocktail is a great option not only for new year's party, but also for bachelorette party, wedding and other events.