ROMANTIC DINNER ON VALENTINE'S DAY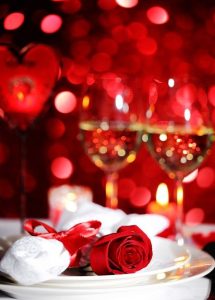 Do you want to arrange a romantic dinner on Valentine's Day for your second half?
We will tell you how best to organize it so that this evening was great.
So, a good romantic dinner consists of the following elements:
beautifully decorated room
thematic design and table setting
delicious dish
romantic music
good mood and love :).
All this in order we will tell in our article.
Content of article:
Room decor
Decor and table setting
Food
Romantic music
ROOM DECOR
The room where the romantic dinner will be held can be decorated with garlands of hearts or themed flags.
Of course, the main decor of the evening will be candles.
Rose petals will help to add romantic mood.
Very nice will look letters or heart with light bulbs (you can buy them here).
A wall can be decorated with a garland with your photos — so very romantic (buy a garland here).
DECOR AND TABLE SETTING
Organizing a romantic dinner on Valentine's Day, you should pay attention to the table setting. Elegant tablecloth, candles, small decorative items will add to your evening special mood.
FOOD FOR A ROMANTIC DINNER ON FEBRUARY 14
The answer to the question " what to cook for a romantic dinner?"depends on your preference. If you are a beginner cook, you can cook the familiar dishes, making them festive.
Pizza or baked potatoes in the shape of hearts will definitely delight your lover or sweetheart. What matters is not the complexity of the dish, and the feelings that you have invested in their preparation.
If you want to surprise your soul mate with something new, then take a look at our section of holiday recipes. And here you can find dishes specially for Valentine's Day.
By the way, take care of the availability of dessert and drinks. As a dessert, you can choose a cake, cookies or cakes, as well as fruit.
ROMANTIC MUSIC
As a background for your evening, you can record your favorite tunes on the disc or use our selection of romantic music.
You can finish a wonderful evening with a joint bath:). We wish you an unforgettable evening!