HALLOWEEN COOKIES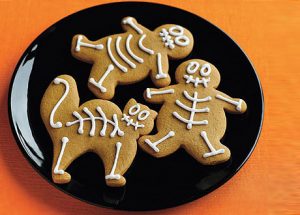 Want to make delicious and scary (in a good way) cookies for Halloween? 🙂 We will tell you how to prepare and decorate your cookies for the scariest party of the year!
For cookies in the style of "Pumpkin" you will need 2 cups of flour (250 ml), 120 grams. butter, 2 eggs, a pinch of salt, 2 tbsp honey, pumpkin jam or jam (thick).
On the basis of flour, softened butter, 2 tablespoons of honey and 2 eggs knead a soft, non-sticky dough to the hands. After that, put the dough in the refrigerator for an hour, pre-wrapped in film. Later we take out, divide into two parts and both roll out. The first part of the dough is cut into the same round shape, the second-cut out the" facade " of the pumpkin.
Baking temperature-180 degrees. Cooking time-15 minutes.
On the same principle, you can cook a different format pumpkin, put instead of pumpkin jam-dark chocolate.
You can also use another cookie recipe for Halloween.
Taking the recipe of homemade shortbread as a basis, you can show imagination in creating new shapes, as well as decorating cookies!
Decorating cookies on Halloween, use colored glazes, powder, food paint, chocolate and fruit!
You can also buy ready-made oatmeal cookies and decorate it :).