Roll in pita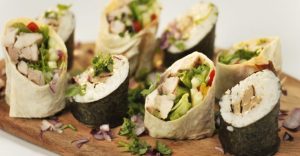 Ingredients
chicken fillet-300 g    vegetable oil    chili pepper
Zira   oregano   bell pepper   — 3 wall
red onion   – 1 head
cilantro   pita   — 2 sheets
leaf lettuce   cucumber   — 1 PC.
cream cheese   salt
NUMBER OF INGREDIENTS
13 ingredients
COOKING TIME
45 minutes
Method of preparation
List
Step by step
1. Fry the chicken fillet in vegetable oil with chopped chili pepper. Salt, add cumin and oregano. Bring to readiness under the lid.
2. Fry the chopped sweet pepper in vegetable oil. Cut the red onions and cucumbers, chop the cilantro.
3. Spread layers of chicken, lettuce, cucumbers, roasted peppers, red onions and cilantro on the pita bread. Daub the edge of the lavash with cream cheese and roll. Wrap it in plastic wrap and allow to soak.
4. Cut the roll into portions. Before serving, garnish with cilantro and red onion. Bon appetit!