Picnic is not only a pleasant pastime, but also a special, marching kitchen.
That is why, choosing salads for a picnic, consider a few tips:
give preference to easy and quick to prepare dishes
in ingredients choose only fresh vegetables and fruits.
also, refuse to use mayonnaise and dairy products (sour cream, yogurt, kefir), which can quickly deteriorate if it's hot outside
as a dressing, use vegetable oil (olive, sunflower, etc.), lemon, vinegar
it is best to fill salads already at the picnic site, so that the vegetables do not have time to lose their juiciness
SALAD " GREEK» Continue reading →
Want to cook simple picnic snacks for yourself and your friends?
Then pay attention to our ideas. Perhaps a couple of them will be appropriate for Your holiday!
Sausages in pita are cooked quickly, and most importantly – are a simple and hearty dish for any company. For additional taste inside lavash can be lubricated with a mixture of sour cream (mayonnaise) and herbs. You can also add small pieces of cheese inside.
This sandwich will be a hearty addition to active rest. Pieces of chicken fry on the grill for meat, sprinkle for juiciness seasonings or watering beer. You can also use the recipe for chicken breast in lemon marinade. Continue reading →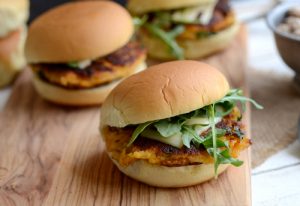 Want to have a picnic, but do not know what to treat your friends? After all, you always want something delicious, and most importantly – not boring.
The best option for a picnic is this type of dish as an appetizer. Here you can find not only original snacks for a picnic, but also interesting solutions for their submission.
ORIGINAL RECIPES FOR A PICNIC: A COMBINATION OF DIFFERENT FLAVORS
Scotch eggs
Ingredients: quail eggs (10 PCs.), minced pork (200 g), chicken egg (1 PC.), sunflower oil (200 ml), garlic (1 tooth), mustard (1 tsp.), breadcrumbs (3 tbsp.), salt to taste. Continue reading →
Today we will see what interesting picnic dishes can be prepared with a minimum set of products. It is worth remembering that an interesting dish is not only its taste, but also a beautiful design.
A picnic is not a feast where you need to surprise your guests with a large number of hearty dishes. Picnic – is an active holiday, vitality which support vegetables, fruits and other Goodies :).
Developing ideas for a picnic for children and adults, give preference to the classic set – sweets and fruits.
Picking up interesting dishes for a picnic, you can prepare fruit skewers-they are convenient to eat in the field:).
You can also make a cocktail option. Continue reading →
Picnic is a wonderful opportunity to have a good time in the fresh air. It is worth remembering that the organization of a picnic requires careful consideration of the menu.
It is not good to feed children and adults with heavy, fatty food. Deciding what food to take on a picnic, give preference to snacks, vegetables and fruits.
The ideal picnic food is baked chicken (meat) or fish, fresh or grilled vegetables, and various fruit mixes.
This article will not only help you decide what you can take on a picnic of food, but also tell a couple of ideas for the design of dishes. Continue reading →