ORIGINAL SNACKS FOR A PICNIC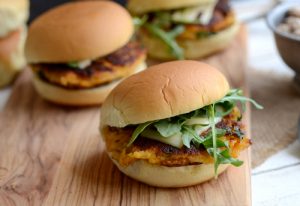 Want to have a picnic, but do not know what to treat your friends? After all, you always want something delicious, and most importantly – not boring.
The best option for a picnic is this type of dish as an appetizer. Here you can find not only original snacks for a picnic, but also interesting solutions for their submission.
ORIGINAL RECIPES FOR A PICNIC: A COMBINATION OF DIFFERENT FLAVORS
Scotch eggs
Ingredients: quail eggs (10 PCs.), minced pork (200 g), chicken egg (1 PC.), sunflower oil (200 ml), garlic (1 tooth), mustard (1 tsp.), breadcrumbs (3 tbsp.), salt to taste.
Preparation: hard-boiled quail eggs, clean. Mix minced meat with crushed garlic, salt, mustard. Roll the balls so that there was an egg inside, and outside-minced meat.
Dip the ball in a raw chicken egg and breadcrumbs. Fry in a pan in plenty of oil until Golden brown (2-3 minutes). Garnish with herbs. Serve warm or chilled.
Spring croutons
Ingredients: French loaf, bell pepper (1 PC), Parmesan cheese (200 g), butter, herbs.
Preparation: baton cut into easy to eat pieces. Cheese three, pepper cut into small cubes, chop onions and herbs. Mix the composition with oil. Smear the mass of the loaf pieces, spread on a baking sheet and bake at 180 degrees for about 15 minutes. Cook this dish can be in nature, using a conventional grill for meat.
Liked the spring croutons, but want something more suitable for the company? Then we recommend you to see our next original picnic dishes, which are perfectly combined with fresh juices or chilled beer.
Cheese toast with beer
Ingredients: French loaf, light beer (100ml), chicken egg (1 piece), butter (100g), hard cheese (150g), salt, ground red pepper, herbs to taste.
Preparation: cut the loaf into convenient pieces, fry in oil until Golden crust. After that, in a frying pan, mix the remaining butter, pour the grated cheese, pour the beer, add salt, pepper, add the egg yolk. Melt until smooth, pour the croutons laid out on a baking sheet. Bake in the oven for 3 minutes at 180 degrees. When serving, decorate with herbs.
Eggplant tempura
Ingredients: eggplant, sunflower oil, semolina (3 tbsp.), corn starch (3 tbsp.), flour (3 tbsp.), salt, pepper to taste.
Preparation: peel the eggplant, cut into rings, salt them and let them rest for 30 minutes, wash with cold water. Prepare batter-mix flour, semolina and starch, stirring with pepper and salt. Roll the eggplant in the mixture, fry in oil on both sides until Golden brown.
Roll of pita
Ingredients: avocado (1 PC), chicken (200 g), carrots (1 PC), pita bread, lemon juice (2 tsp), mayonnaise (1 tbsp), spinach (100 g).
Preparation: prepare avocado puree, mix with lemon juice and mayonnaise. Lavash smear the finished mixture, spread the boiled chicken, carrots and spinach. Pepper and salt to taste. Roll the roll. Let cool and soak in the refrigerator for a couple of hours. Before serving, cut into "slices".
We also want to present you the original recipes of sandwiches for a picnic. Such snacks are good to eat after a long walk or active games.
Sandwich with salad
Ingredients: eggs (3-4 pieces), any salted/ red fish ( salmon, salmon) to taste (200-300 g), mustard (2 tsp), loaf, greens, mayonnaise.
Preparation: boil eggs, grate. Mix with mayonnaise, mustard, chopped herbs. On the pieces of the loaf, which if desired can be fried in a toaster or on a fire spread egg salad, put a slice of fish on top, decorate with herbs.
Sandwich with cucumber
Ingredients: loaf, soft cheese (200 g), cucumber (2-3 PCs), pepper and herbs to taste.
Preparation: cut the loaf, spread with soft cheese and decorate with cucumber slices, herbs, sprinkle with ground pepper. Original this sandwich can be thanks to a fun figure embodiment. For example, a soft loaf perfectly cut special shapes for cookies.
Sweet melon
Ingredients: melon (1 PC), ham (200 g).
Preparation: cut out the melon balls with a spoon (you can use a round spoon for ice cream). Ham cut into slices. Wrap the melon in ham and secure it with a skewer or toothpick.
We hope that our simple but original recipes for a picnic will allow you to cook quite unusual dishes for snacks :). Unusual combinations of cheese and cucumbers, melon and ham – all tastes that will be a real surprise for all those present at the picnic :).