events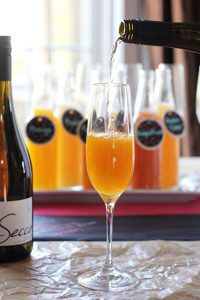 Regardless of whether you plan to arrange a new year party with a buffet or a full feast, Mimosa bar will be an original and convenient way to provide all guests with champagne.
"Mimosa" is quite a popular cocktail based on champagne, freshly squeezed orange juice and fresh fruit or berries.
Of course, do not forget to put and chilled glasses for a drink :).
If you and your guests love to experiment, you can not be limited to orange juice, and offer a few to choose from.
By the way, if there are a lot of guests, it will be great to sign the glasses (for this you can attach labels to each glass, on which each guest can write his name). Continue reading →